On a cold, wintery evening in mid-January, 50 Truants, their partners and other special guests made their way through the rain and throngs of tourists in Leicester Square to the Hippodrome Casino for the inaugural Truants India Awards Dinner- to celebrate the amazing achievement of not only finishing the ride without too many medical interventions, and of course the VAST amount raised for our three charities- Nordoff Robbins, Teenage Cancer Trust and Childline.
Resplendent in their glamourous outfits, complete with the splash of purple to signify our India ride, the Truants were certainly dressed to impress. Some made more effort than others with Adam Tyrer and his guest winning this editors "Best Dressed" for the evening, and our beloved auctioneer Tom and his even more beloved wife Alison in full Maharajah garb.
Kisses and hugs exchanged all round, the drinking began in earnest with prosecco, beer and wine applied on arrival. The marvellous painting created by Andrew Hewkin was on display for all to admire and count their pennies out for the auction later in the evening. Once everyone was suitably lubricated, we moved in to the Hippodrome theatre where a 3 course meal was waiting to be enjoyed.
Thanks have to go to the Hippodrome staff who were great in their swift delivery of food and keeping our glasses topped up. And of course Mark Fuller and Sherene Lawrence who were instrumental in arranging everything with the venue.
After our vast bellies were full, the real point of the evening began with Dave Shack introducing the hilarious video filmed and edited by Ryan Titley (which you can see below) of our time in India. The sweat, the tears, the sore bums and the beautiful scenery were captured so well, many of us in the room felt we were right back there. The drone footage in particular had everyone ooh-ing and ah-ing in chorus.
The Auction came next, with the afore mentioned Andrew Hewkin painting being won by our very own Rookie- Lawson Muncaster, or was it the committee member who nominated him- Eric Newnham? I don't think either of them remember clearly, but more importantly £6,300 was added to the fundraising to push the total even higher for our charities. And surely that is all that matters?
Our Shepherd, Rod Smallwood, was up, or rather, stayed seated due to his recent knee operation, to run us through the all important numbers, which was what we were all waiting for.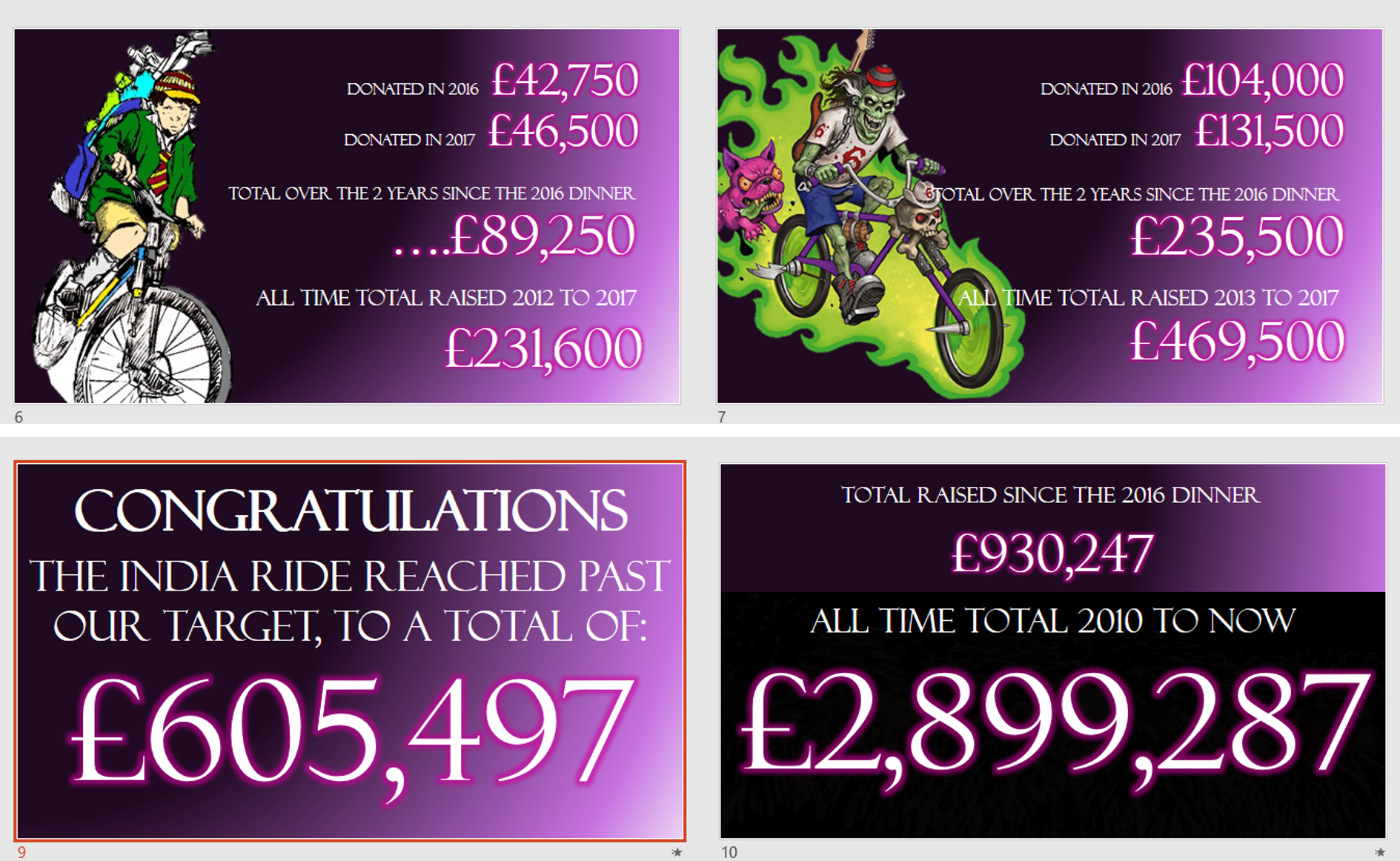 We were very lucky to have representatives of each of the charities in the room, to celebrate the extraordinary achievement of the 41 riders who took part in our mammoth adventure in Kerala. The £605,497 raised will be split between the 3 charities and takes us edging ever closer to the £3 Million donation mark. After 6 years of the Truants, it still amazes us how we do it. But we do, because the kids that benefit from the work that Nordoff Robbins, Teenage Cancer Trust and Childline do, make every muscle twinge and bead of sweat completely worth it. We get on our bikes, we hold Golf days, we coerce Legends from Sport and Music to socialise with us, all to raise more and more pennies for kids that deserve a better life that the one that is dealt to them. They are our motivation. They inspire us and move us to step out of our comfortable lives and do something difficult all in their name. How we wish we didn't have to. But whilst we do, we will continue to fight and to raise the money so desperately needed to fund care, nurses, therapists and a place these children can feel safe and secure.
Once the final number was revealed, the allocations of said amount was announced during the Certificates section. Who raised more than whom? Who beat last year's personal total? How much did the Rookie's make? Did anyone go above and beyond? To see who is where on our 10K Klub board, click here
Needless to say, everyone pulled their fingers out and contributed to the grand total and every single penny counted. From those who pushed to raise £500, to the top Platinum earners who managed to pull over £25,000 in individually; Everyone did what they could and we smashed our target because of their dedication.
THANK YOU TRUANTS!
With financials closed up for the year, the frivolity came back with a vengeance. The Awards. Tom Baigrie regaled some long lost memories from the ride as they pertained to the individuals who won the coveted Truants Awards, sponsored by Dairy Crest – special thanks to Mark Allen. Or at least, they would have, had "somebody" remembered to bring them to the venue. But ever the professional, Tom skipped this oversight and each winner got a rousing applause instead (Awards were posted out after the event!!). For full list of the Categories and their winners from past years, please click here.
There was one man that needed a special mention though. John Cooney has been bravely fighting his own medical battle for the past year. Despite the ups and downs that this trip has taken him on, and even though he didn't make it to India with us, he did his own fundraising effort and managed to raise £19,063.75 which was actually the coin that tipped us over our target 0f £600,000. Not only did we doff our caps to this dedication, we had his sister film the moment he was presented with his Special Achievement Award. Emotion doesn't come close. Thank you John for showing us what being a Truant really means and hurry up and beat that thing so you can come back and entertain us all on the next ride!
In true Cooney style, we had to close the evening with a rousing rendition of Queen's "Bohemian Rhapsody" after which photos were taken, more hugs and kisses all round and it was on to gambling, drinking, smoking and being general Truants. We dispersed to every corner of the venue, some never to be seen again. We believe Simeon and Barry are now still at Hippodrome somewhere, but we can't be sure…..
Scroll Down for the FULL UNCUT Video and More Photos from the evening.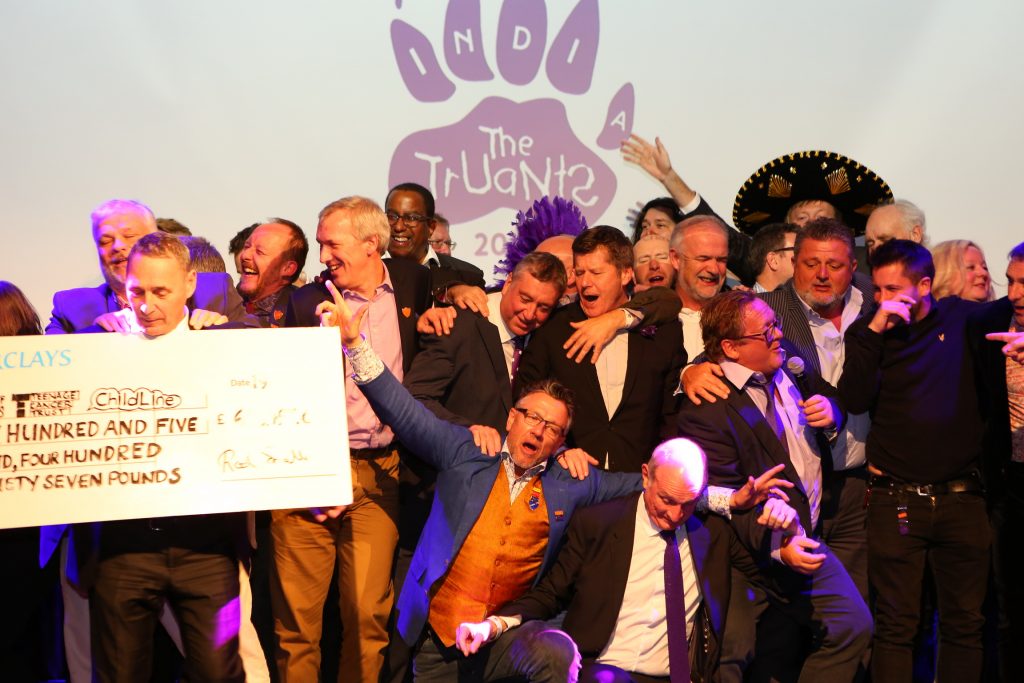 The Full India Video- UNCUT!
The India Awards Dinner- Hippodrome- 19th January 2018