Welcome to the Official Truants Mexico site
Dear Sponsors,
Thanks for your many and generous contributions to our Truants' Mexico Bike Ride 2015 on behalf of Nordoff Robbins Music Therapy, Teenage Cancer Trust and. ChildLine/NSPCC.  Total final donations for the ride totalled £517,000 with all of the costs of the ride having been covered separately by all the Riders, so 100% of your donations go direct to the Charities. This amount is being split equally between these three Charities, so a hefty £172,333 each.
Beginning with the Egypt Ride in Jan 2010 the Truants have now raised £1,971,438  so we fully expect to pass the two million pounds landmark at our Charity Golf Day on July 1 2016. We do hope you will continue to support us for Nordoff Robbins, Childline and the Teenage Cancer Trust and we will continue to roll ourselves out every couple of years.
On this website you see the menu linking to stories of the ride, where we were and what we did, plenty of photos embarrassing and otherwise, even a movie, and lots more. Hope you enjoy looking through it.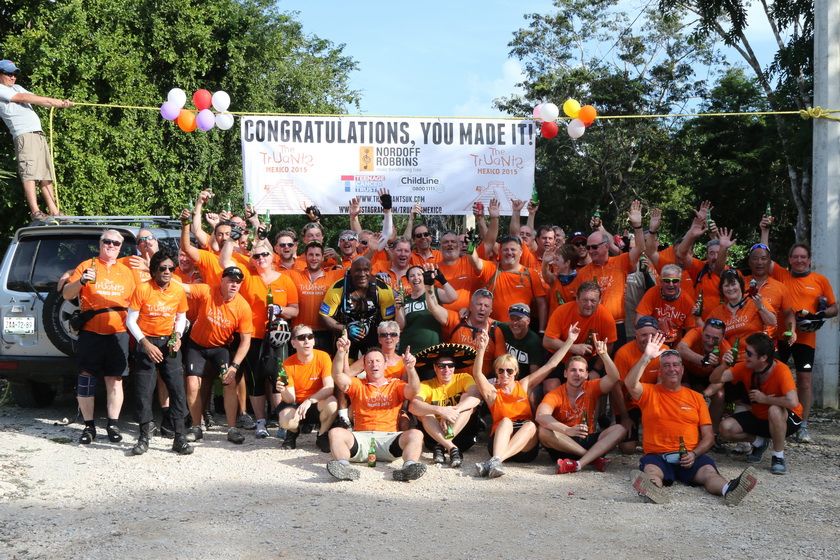 Here are some quotes from the Charities to simply let you know some of the many ways that your money will be used and just how beneficial they are to many thousands of kids who are in need of assistance:
Nordoff Robbins Music Therapy
The £172,333 that the Truants have raised from the Mexico bike ride will help Nordoff Robbins provide an extra 5,157 music therapy sessions. These sessions provide a lifeline for the children we work with, including children who are autistic, children living with severe disabilities and  children with a terminal illness. We work closely with these children and their families to make their world a better place and to ensure that each and every child has an opportunity to reach their full potential. Music has an ability to reach people in a way that nothing else can and our skilled music therapists often provide the only means through which those we work with can communicate to the wider world. Every penny raised by those brave enough to take on the Mexico bike ride challenge  will go towards making lives better for some of the UK's most vulnerable children and every penny raised will help transform a live.
 Jo Carter, Director of Fundraising, Marketing and Communications (and Truant!)
Teenage Cancer Trust
Over the last 4 years The Truants have been there every step of the way for Teenage Cancer Trust. We now have an incredible 28 units providing 237 beds for young cancer patients, and we fund 63 teenage cancer specialists in NHS hospitals.  As we move towards our ambitious goal of reaching every young person with cancer by 2020, the £172k donation from the Mexican ride will provide an enormous 6,600 hours of age appropriate care and treatment across all these services
Tom Marshall, Head of Partnership Fundraising at Teenage Cancer Trust
ChildLine
What an incredible achievement! Thank you so much to all the Truants involved in the 2015 Mexico ride. The money you have all worked tirelessly to raise will go towards funding ChildLine, the NSPCC's vital 24 hour helpline for children and young people in the UK. Your donations can enable us to recruit and train ChildLine volunteer counsellors who listen when children feel no one else is there to help them feel safe again, day and night, every day of the year. Your phenomenal support this year will help us to reach over 40,750 children and young people in need of help who contact ChildLine when they have nowhere else to turn. Thank you!
Peter Wanless, CEO of NSPCC
Many thanks to Louise Hutley, Holly Elliott and Helen Whittaker from Classic Tours for making the ride possible with their expertise and experience; our Classic Team Leader Henk for his patience and knowledge, ably assisted by Gavin and Dr Will; the Mexico based team of mechanics, cooks, drivers, guides and helpers; Rod's PA Helen for her never ending patience, assistance and all her hard work putting this site together; Ruth Fluin-Hardy for all the Charity Fundraising accounting and even more patience; Ryan Titley for generously spending a lot of time editing our movie masterpiece.
Also thanks to some of our fellow Truants – Barry Drinkwater and Global Merchandising for providing our splendid yellow, green and of course orange Mexico Ride T-shirts; Mark Allen and Dairy Crest for our Awards; Tom Baigrie for supplying the tall tales;  Ryan Titley for his excellent camera work; Rachel Luckhurst for taking the professional photos;  Howard and Tom for their blogs: and Shacky for the excellent Mexico Cycle Shirts.
We hope you enjoy looking through all this and thanks again for your much valued support!
– THE TRUANTS
P.S Our JustGiving page is still open if anyone who hasn't already helped would like to donate  please go to www.justgiving.com/A-Truant
For those who rode, we salute you…
ADAM TYRER, ALAN BENNIE, ALAN DAY, ALEX MILAS,  AMANDA BLUEMEL, BARRY DRINKWATER, BILL TAYLOR, CAROL TINDLEY, CHARLES BRADBOOK, CHRIS LYONS, DAVE SHACK, DAVID BATY, DAVID BOWMAN, DAVID WHITESTONE, ERIC NEWNHAM, FRANK McGOWAN, GERRY BRADLEY, GUNNAR SCHOLDBERG, HELEN CURL HOWARD JOHNSON, ILLY JAFFAR, JASON PEERS, JAMES BURDESS, JO CARTER, JOHN COONEY,  KEVIN WITHEFORD, KULVEER RANGER, LUKE BURDESS, LUKE THOMAS, MALCOLM BLUEMEL, MARK FULLER, MAX FULLER, MICHAEL HOLE, NICK PRICE, PAUL CURRAN, PAUL FLETCHER, PAUL TINDLEY, PHILIP ROWLEY, RACHEAL LUCKHURST, ROBIN MOORE, ROD SMALLWOOD, ROWEN PESTANA, RYAN TITLEY, SARA BENNIE, SIMEON THROWER, STEVE PENNINGTON, STUART GALBRAITH, STUART HIGGINS, TIM CLARK, TOM BAIGRIE, VICTOR UBOGU, WILLIAM LUFF