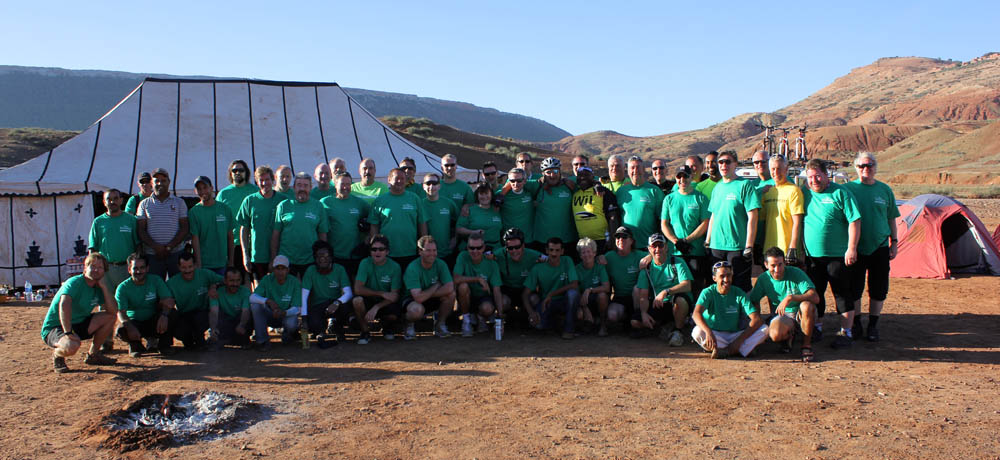 There aren't many things in life where having so much fun and bearing a little pain can do so much good, which makes the Truants Charity Bike Rides – now in aid of Nordoff Robins, Childline and Teenage Cancer Trust – truly unique and unmissable events. I know. I've been on the last three and I keep coming back for more.
This year's challenge found the Truants in Morocco, Marrakech to be precise. With Egypt and Cuba crossed off the 'to do' list, those who were after something less challenging in Year Three would not have been reassured to learn that the 40 Truants s would be heading for the Atlas Mountains. Yes, that's mountains!
On our arrival in Marrakech urbane Tour Guide Claude insisted that each of the three days' riding would include nothing more than "a few undulations". I'm a longstanding Truant and know that everyone lies to you on these trips. Plus I'd sneaked a peek at a bit of classified ride data that included terms such as 'non-tarmac sections', 'valley climbs' and the particularly simple, yet desperately worrying 'long'. I speak fluent Truantese. I knew we were in trouble.
Just how much trouble was immediately clear on Day One of the ride, a 'leisurely' 50 kilometres. Leisurely, that is, until you realise that you're basically doing a grand loop around Marrakech and facing its indigenous 'Death Race 2000' car-driving population head on. The fumes I could handle. The constant fear that I was about to head upstairs to meet my maker somewhat less so.
Under the circumstances, the fact that we had a full complement of riders for Day Two, 'Hotel Vatel To Ait Ourir', was something of a miracle in itself. With 79 kilometres to chalk off before arriving at our next destination some of us – me most definitely included – were going to need a miracle of our own. And so we pedalled and sweated under 35 degrees of hot Moroccan sun. And sweated and pedalled. And pedalled and sweated again. The omnipresent Atlas Mountains bore down on us all day long. And nobody would answer our constant cries –like kids in the back of the car – of 'Are we there yet?'. Breaks for water, fruit, nuts and some jolly tasty little biscuits staved off dark thoughts of outright rebellion, while Sudocrem took care of the more 'physical' issues. And when we finally arrived at our two-star tents, exhausted yet deeply satisfied, we truly felt we'd earned a singsong and a beer. Or four.
Some of us were deeply regretting such jollities on the final day of our ride, though, 50k back to the smog of Marrakech. Sympathy was in short supply, despite many swearing it was stomach upset, not booze, that had laid them so low. And yes, it was bloody hot again. Across fields and roads we toiled, constantly thinking of our sponsors, not wanting to let anyone down. And anyway, what's a dose of 'Marrakech Tummy' when you're doing your bit for charity?! There's always a convenient bush, isn't there?
Back into Marrakech then, onto the home straight, all knackered but all victorious. Every hill that we'd climbed, all the truck fumes we'd inhaled, all the lactic acid we'd stirred up like a nest of hornets, it was all worth it. We'd made it. 180 kilometres of hard yakka that made men of us all – even the women!
Marrakech may just well have been the best – and the hardest – Truants yet. If you've already donated money by sponsoring a rider we salute you. If you haven't, well there's still time. We need your money to help these great causes. And speaking as a rider? Well, a broken bottom seems a small price to pay!