Dear Sponsors
Thanks for your many and generous contributions to our Truants' Cambodia Bike Ride 2014 on behalf of Nordoff Robbins Music Therapy, Teenage Cancer Trust and. ChildLine/NSPCC Total final donations for the ride totalled £372,000 with all of the costs of the ride having been covered separately by all the Riders, so 100% of your donations go direct to the Charities. This amount is being split equally between these three Charities, so £124,000 each.
Beginning with the Egypt Ride in Jan 2010 the Truants have now raised £1,126,250 and in late 2015 we will be venturing out again. Who knows where? We do hope you will continue to support us for Nordoff Robbins, Childline and the Teenage Cancer Trust and we will continue to roll ourselves out every 18 months or so until we drop!
On this website you see the menu linking to stories of the ride, where we were and what we did, plenty of photos embarrassing and otherwise, even a movie, and lots more. Hope you enjoy looking through it.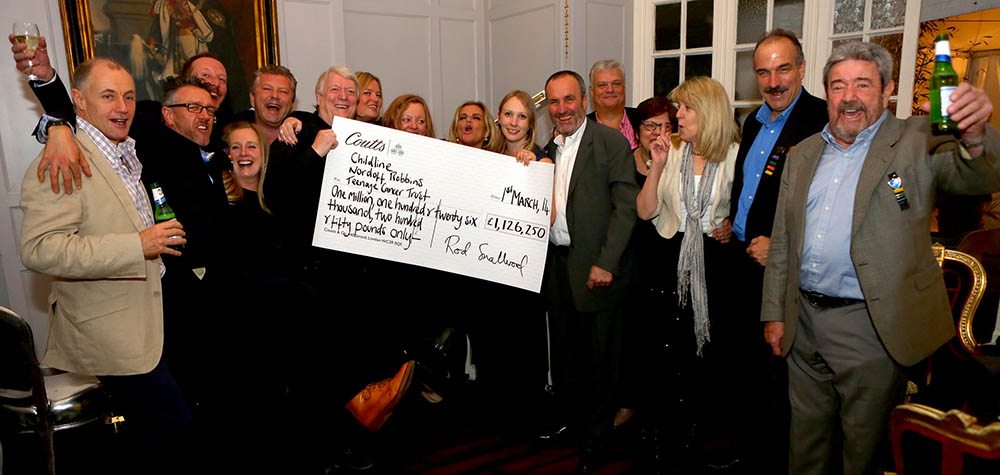 Here are some quotes from the Charities to simply let you know some of the many ways that your money will be used and just how beneficial they are to many thousands of kids who are in need of assistance:
Nordoff Robbins Music Therapy
The money the Truants have raised from the Cambodia bike ride will help Nordoff Robbins provide an extra 5,546 music therapy sessions for some of the UK's most vulnerable children. We work with children who live every day with unimaginable challenges. Our work with disabled, sick, frightened and isolated children gives them an opportunity to express their feelings, build their confidence and reach their full potential.  These are all things that can easily be taken for granted, but for the children we support, music is often the only way their voices can be heard. The funds you have all raised will make a huge difference.
 Jo Carter, Director of Fundraising and Communications.(and Truant!)
Teenage Cancer Trust
"Every year in the UK over 2,500 young people aged 13-24 face the devastation of a cancer diagnosis and Teenage Cancer Trust is the only UK charity dedicated to supporting them. The Truants' donation will provide an incredible 5,546 hours of expert care – delivered by 47 specialist Nurses and Youth Support Coordinators in 27 Teenage Cancer Trust Units – giving young cancer patients the best possible support from the moment they are diagnosed and make the worst journey of their lives more bearable".
Siobhan Dunn CEO.
ChildLine
" This money from the Truants will go towards funding ChildLine, the NSPCC's 24 hour a day, 7 day a week helpline, and can enable us to recruit and train 69 volunteers. Each volunteer can counsel up to 200 vulnerable children in a year, so your phenomenal support can help us to reach over 17,000 children and young people in need of help who contact ChildLine when they have nowhere else to turn. 17,000 children and young people – what an incredible number from the Cambodia ride alone! "
Peter Wanless, Chief Executive
First we would like to thank some of our fellow Truants – Barry Drinkwater and Global Merchandising for providing our splendid blue, green and of course yellow Cambodia Ride T-shirts; Mark Allen for our Dairy Crest Awards; Tom Baigrie for supplying the tall tales;  Howard Johnson for his excellent camera work; Adam Tyrer for taking (most of) the photos;  Alex for his blog;  Shacky for helping get this Cambodia Ride site together
But even more so  we must thank Louise Hutley, Lyndsay Granger and Helen Whittaker from Classic Tours for making the tour possible with their expertise and experience; our Classic Team Leader Miriam Zumpolle for her patience and knowledge, ably assisted by Alex (Up the Suisse!) and Dr Julian (Why Aye Man) Bronly; the Cambodia based team of mechanics, cooks, drivers, guides and helpers; Rod's PA Sharon Atalay for her never ending patience and assistance; Ruth Fluin-Hardy for all the Charity Fundraising accounting and even more patience; Sarah Philp, Iron Maiden webmistress, for all her hard work putting this site together; Ryan Titley for generously spending a lot of time editing our movie masterpiece.
We hope you enjoy looking through all this and thanks again for your much valued support!
– THE TRUANTS
PS. Our JustGiving page is still open if anyone who hasn't already helped would like to donate  please go to www.justgiving.com/A-Truant
For those who rode, we salute you…
ADAM TYRER, ALAN BENNIE, ALAN DAY, ALEX MILAS,  AMANDA BLUEMEL, ANDY MATTHEWS (RIP) , BARRY DRINKWATER, BILL YARIAN, CAROL TINDLEY, CHARLES BRADBOOK, CHRIS LYONS, DAVE SHACK, DAVID BATY, DAVID WHITESTONE, ERIC NEWNHAM, FRANK McGOWAN, GUNNAR SCHOLDBERG, HOWARD JOHNSON, JASON PEERS, JO CARTER,  JAN McGINITY, KEVIN WITHEFORD, LUKE BURDESS, LUKE THOMAS, MALCOLM BLUEMEL, MARK FULLER, MICHAEL HOLE, NICK PRICE, PAUL CURRAN, PAUL TINDLEY, PHILIP ROWLEY, ROBIN MOORE, ROD SMALLWOOD, SARA BENNIE, SIMEON THROWER, STEVE PENNINGTON, STUART GALBRAITH, TOM BAIGRIE, VICTOR UBUGO
This Ride was dedicated to our friend and fellow Prefect Andy "Fellini" Matthews who sadly rode off just before this ride commenced on Jan 24 after a few months of illness. Andy, you were there in spirit and we will see you down the road and ,boy, will we miss your terrific movies of all things Truants!!  It was just not the same without you, mate.