Please note – No charity funds  are used at any of these events, briefings, dinners etc. All costs are paid 100% by those attending out of their own pocket or services are provided free by individual Truants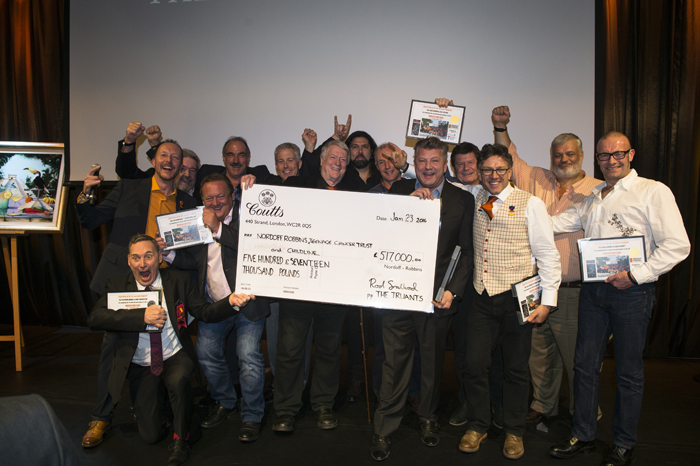 TRUANTS MEXICO AWARD DINNER from TheTruants on Vimeo.
And so we finally made it to one of London's premier nightspots (since the sad demise of the legendary Embassy venue) for our Gala Awards Dinner and it'd be fair to say that we were holding all the marked cards, rolling loaded dice and spinning a weighted wheel to record the biggest win for our three charities at the fifth time of riding! Yes, the Hippodrome, Leicester Square welcomed rollers of a different kind into their decadant surroundings and didn't we scrub up well? It's never a problem for our glamourous 'other halves' and our handful of lady Truants but, in fairness, some of our number are, shall we say … sartorially challenged. It was with a slight sense of trepidation that the gentlemen were told to wear a hint, or as I like to say, a frisson of orange about their wardrobe for the night. It probably could have been worse – only the long-term shock-jocks led by Luke Burdess (in a vibrantly hued jacket & contrast flame grilled trousers!) actually upset the non-Truant clientele and got the bouncers conferring on their ear-piece walkie-talkies. The most fragrant of us was undoubtedly Mr B. Drinkwater Esq due to the fact that he was actually wearing orange. Yes, Orange peel adorned the great man's breast pocket which was far more appropriate than Flipper Newham's concession: a pair of chameleon- like coloured sun glasses on his head. But enough of the colour scheme (which, of course, created fineable opportunities throughout the evening when added to the perennial 'badge' etiquette dilemas) for after being greeted with a not quite hobson's choice of tequila or cerveza based arrival drinks we were left to soak up the ambience of a lounge with an amenable croupier (bet for free, ask all you want to know!) and gaze in awe at Hewkin's latest masterpiece that would later raise over £8000 for the charity coffers – but more of that later.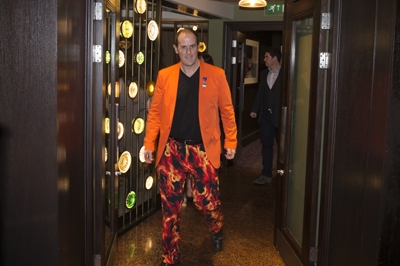 Ushered into our grand theatre by an army of capable lovelies I'm sure everyone felt we were in somewhere quite special and almost purpose built for us! Yes, a private room, a stage and a huge video screen – what more could a truant award show need? In truth, the answer came later: a spectacle! As you would expect the Truants rose to that 'challenge' and created their own (with a little help from the organising committee) that will long live on in the minds of all who saw it or indeed participated!
Being Fuller's domain he played a blinder with a simple but oh so effective menu and pre-prepared quality vino meaning we were soon into the Movie – the narcissistic but traditional ride report sanitised for our sponsors, benefactors & partners. Introduced by Shacky (resplendent in a magnificent, hand-made orange shirt!) and featuring a brief parody piece of Nicki Chapman's (his good lady) flagship TV show, Escape To The Country, this year's presumably BAFTA considered opus was cut to a 'highlights' length to reflect the fact that there was a far bigger (non-participating) audience in the room. More than doing the trick yet again the laughs came thick, fast & protracted as customised bicycles, Henk the colour-blind guide, Jason Peers, Carol Tindlay, Helen Curl, John Cooney & Tequila all laid claim to Best Supporting Roles … Yes Ryan had worked his magic again on far superior footage than we had any right to expect and his pal & long-time Truants supporter, Dan Pasquale polished the sound so the gags all hit the spot right between the ears!
Once the applause had died down Rod 'The Shepherd' Smallwood took to the stage to praise the praiseworthy (too many to mention), kick the under-achievers (less than previously) & drop the bomb that we'd smashed every living target we could have stretched ourselves to and delivered an incredible £517,000!! Yes, it required a Tequila shot (with lime & salt, natch!) for most of us to take in what we'd achieved. Our guests from all three charities were suitably impressed I think and must surely be wondering how the hell we do it on such a grand scale for them time after time. As Rod explained: at our core is competition. We all want to a) do better than last time & b) do better than everyone else which means we dig deeper each time and if you add creativity (Sporting dinners, golf days, auctions, metal rides & god knows what else) then you see how we do it. Bigger, better, harder, faster – Just call the Truants!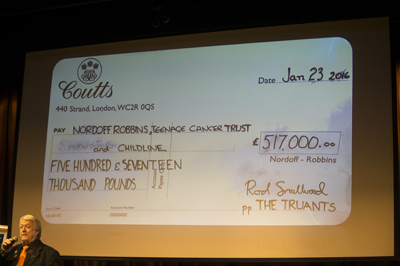 Talking of which Tom 'The Hammer' Baigrie – no, it's nothing to do with his 'tash (if it was he'd be 'The Walrus') proved his mettle gaining £2500 for a spurious James Bond Hippodrome Experience (clue – the Martini is shaken not stirred) from generous Malcolm Blummel at auction before literally 'rogering' Barry Drinkwater to part with about half of his One Direction (sans Zane) Tour T-shirt sales profit for the latest Hewkin original. Clearly he was intoxicated on his peel foppery as the bids rose & rose. Let's hope there is a wall in his Brighton penthouse that needs some tequila to match the sunrise!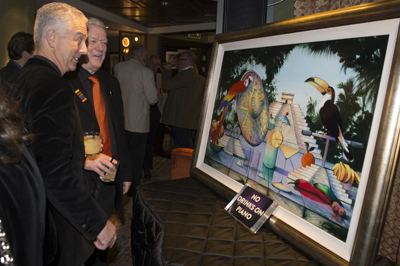 The 'Hammer' wasn't finished yet though (although William Luff probably wished he was!) as he manfully told Rod to shut up and tried (but ultimately failed) to create a new rule unilaterally requiring the great man to shepherd a crook at all times. Well that wasn't going to wash now was it? He has enough trouble corralling his bloody badges!!
Shacky manfully read the amounts each Silver, Gold or Platinum Truant raised and invited them to the stage to be man-hugged by Rod & presented with their framed certificates and immortalized by the wide-screen lens of Maiden snapper extraordinaire John McMurtrie. There's too many people to list here but suffice to say the Rock God himself, Mr Alex Milas nabbed 2nd best total raised to be bettered only by the man/machine that is Mr Rod Smallwood who raised a total that one person has no right to achieve and modesty prevents us from recording here. As the audio on the video proclaimed: Heroes – one and all.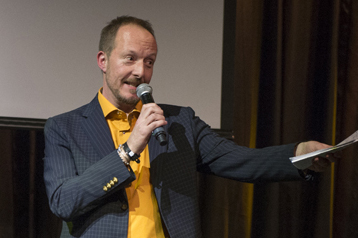 But away from the serious business of raising money it was time for 'The Hammer' to go all Ricky Gervais with the annual awards ceremony which were proudly scooped for & by:
Most Online Donations: Bill Taylor (188) – who denies that 44 listed under W.Taylor are anything to do with him, his family or his, ahem, recently 'hacked'Justgiving account!! Welcome back Bill!
Karaoke Champion: Helen Curl -who dressed as Michael Jackson meets Billy Idol to accept her award for knowing the words to 'Twinkle Twinkle Little Star' obscure second verse  , it has to be said, singing in tune! Mostly.
Most Improved Cyclist: Amanda Bluemel – who nearly had the award taken away from her for admitting she 'held back' on occasion as she felt embarrassed for her husband struggling in her wake!
Andy Matthews Mr Nice Guy Award: Luke Burdess – who (despite his clothes tonight & his wig & hat ensemble in Mexico) should not have a word said against him for the duration of this honour!
Survival against the Odds: Howard Johnson – who talked a good post-fall game in the movie but was clearly equally 'floored'by the bucket of water up his nose in his video acceptance speech!
Most Entertaining Truant: John Cooney – just add alcohol and funky shirts/ scarfs & hey presto! In fact I don't even think he needs the alcohol … Should always be the first Truant packed in the tour suitcase!
Rookie of the Year: Tim Clark – who, via video, played a blinder aged 70 and could only be accused of going shallow on the booze but deep on the chamois cream. Better that way, you say! At his age. Indeed.
Hero: Carol Tindley – for getting up when most would remain prostrate & for even entertaining a proper kiss from a clearly pissed 'Hammer' whilst sat right in front of her husband!
The formal (or as formal as we get) part of the evening was now pretty much in our rear-view mirrors and the thought of being cut loose in a casino was clearly starting to register with some of our less, shall we say, risk averse number. But before ruin or euphoria came from tables or machines we brought both into the room with a rendition of the 'Truants Anthem' . Yes, a full length, no ad-lib spared, 'Bohemian Rhapsody' complete with would-be-Mercurys on stage in the form of Mssrs Cooney, Bowman & Tyrer who were quickly aped by the glamorous duo of Amanda Bluemel & Rachel Luckhurst – who was less than shy shall we say!
And then the magic happened! Picture the scene: a dozen or so Truants on a stage miming (badly) & throwing shapes to the Queen classic and generally hamming it up infront of their admiring peers when, from behind them, came the sound of a whirr and the huge drapes that divided us from the casino at large began to open! Yes we were live and direct to all the punters on 3 levels of the club!! I'm not sure who got the biggest surprise: them or us? But, it was a stunning finale to a stunning night which soon became every man or woman for themselves versus 'the house' with tales of the stragglers making it home by 8am the following morning. Thank God this only happens about every 18 months…
We came, we saw, we casino-ed!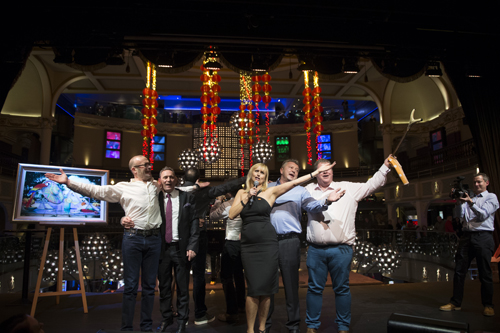 Dave 'The Slave' Shack