Legends Dinner- Bruce Dickinson- Thursday 6th December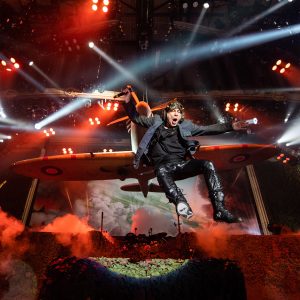 With the pressure on to 'top' the night the Truants spent in the company of the majestic Rick Wakeman as our very first Music Legend, a real star needed to be procured for the end of 2018's Truants bumper money raising calendar!
Iron Maiden's Bruce Dickinson was unquestionably the most multi-talented guest, this or any other Truants night will ever entertain – drawing on his top level experience of not just singing & performing with Britain's greatest ever metal band but also as an Airline Pilot & Captain, an Olympic level Fencer, a Best -selling Author of both fiction & non-fiction, a playwright, brewer & radio & TV broadcaster.
50 Guests were treated to a sumptuous 4 course meal which included a full lobster and fillet steak as well as, in a nod to Bruce, a Trooper beer cured smoked Salmon starter! All were served with wines & a choice from the full range of Trooper Beers brought down from Robinsons Brewery for the night.
The main attraction was interviewed by Shacky who had to employ all his former journalistic skills to cherry pick key subjects for Bruce to entertain the crowd with just because there were far too many to choose from!
To the general 'wow' of the crowd Bruce jumped from one incredible exploit to another with gusto, humour & genuine humility. Be it a story of first joining Maiden, his hairiest moment in a plane, his time playing a show in war torn Sarajevo, or his vision for the continued growth of the Trooper Beer brand the audience were trans-fixed & clearly not wanting the chat to end.
Questions from the floor focused largely on flying and his former fencing career but there was a genuinely great moment as Shacky prepared to bring auctioneer extraordinare Tom Baigrie to the floor, when Bruce talked about how he had taken real inspiration from a visit to one of Nordoff Robbins' centres whilst (secretly at the time) suffering from cancer. If there was a better motivating factor spurring on the auction then you'd be hard pushed to find it.
Consequently the four very unique items (Bruce's Double Platinum disc for En Vivo, A signed, numbered 666 Peter Hickman Trooper Bike Helmet, 2 Boeing 747-400 Simulator lessons & the signed, hand-written lyrics to Iron Maiden's 'Flight of Icarus') raised a record £25,000 for our three magnificent charities.
A raffle ensured a few other guests went home with a special memento of a truly fantastic evening & as the drinking continued in the now infamous soho hotel's rooftop bar (complete with the returned Gorilla!) & outdoor area everyone knew they had witnessed an truly incredible, up close & personal with a true legend and had raised over £48,000 for charity.
The Truants will welcome in 2019 with the inaugural Legends of Stage & Screen Dinner of Feb 20th with the one & only Brian Blessed.