WHAT IS A TRUANT?
To be a Truant you have to be invited and approved by the Truant Committee, have your glass clinked and pay your own way and complete at least one full Truant Ride, or be carried off disabled or worse. There is no application process. There are currently 81 Truants and once a Truant always a Truant, and to be fined accordingly. However as the rides are limited to a maximum of 60 any Truant who misses three consecutive rides has to re-apply with any Rookies if they wish to ride again, if space is available. There are no age rules, however the average is generally middle and while there are no weight rules the average is heavier than you'd expect. Indeed the Mexico ride might have been the heaviest bike ride per capita there ever was.
Truant's come from all walks of professional life, albeit with a slight music industry or entrepreneurial bias due to the proclivity of such folk for clinking glasses with Rod: concert and media promoters; barristers, record company, radio and theatre executives; FTSE CEOs, accountants and merchandising swagmen; telecoms and waste disposal entrepreneurs; sports agents, wealth managers, rock and roll and heavy metal band managers and a counter-intelligence cop; guitarists, Washington lawyers, soldiers, solicitors; artists; night club and hotel owners; advertising execs; toy manufacturers; property developers; PRs; publishers; journalists; city slickers; bodyguards and even bank managers, an MP, a celebrity chef and a legendary ex-England rugby prop call themselves Truants.  All we really share is a dodgy sense of humour, a growing pain threshold, a fondness for sport, though not really cycling, and a love of doing a lot of good, while having a bit of fun.
It's a cool thing to be!

THE TRUANTS STORY
Nov 1979. EMI Records, Manchester Square, London W1. Rod Smallwood signs Iron Maiden and Phil Rowley is their A&R numbers man.  They argue a lot, but get the job done.
30 years later. May 2009.  Sanctum Soho Hotel. London. Rod's still with Maiden, Phil's been many things including COO EMI Worldwide. They meet for an old-boys long lunch and Phil explains that one of those "many things" is that he's now on the board of ChildLine, the children's charity.   And thus, after the Sancerre has done its work, a blurrily benevolent Rod offers to raise some funds by organising a Charity Bike Ride.  Which is what friends do!
They clink glasses on the promise and there and then, the Truants are born.
Rod's hangover offered every excuse for backing down the next morning, but nothing is more binding than a clinked glass.  A clink is a clink.  So he swallows the paracetamol and spins his globe, Blofeld style, and picks Egypt as a possible destination, rightly guessing that the Nile valley would generally be flattish, with possible mild undulations.  He then dials Classic Tours, the ride-organising non-profit organisation he respects from his previous charity bike rides in such diverse places as China, Kenya and Peru and next up gets the music industry's favourite charity, Nordoff Robins Music Therapy, to share the proceeds in  return for masterminding, with vital accuracy, the book-keeping that he rightly suspects might become substantial.
Rod has now learned how to get people to commit irrevocably to things they might later regret, and so the scene moves to a similar room in a very different place. It's Durban, South Africa, June 20 2009, the early hours of the morning before the first Lions Test there.  Rod lines up Messrs Hole, Moore, Cooney and Allen, who, after a long day and night in the bars, agree to everything he says, and then, crucially, clink his glass.  A fine start to a recruiting drive that continues at Rosslyn Park Rugby Club and then in bar after bar, after drink upon drink, in country after country, as one by one the glasses are clinked and the unbreakable deal is made and another stalwart is added to the cause.  And somewhere along the line Rod remembers the Just William books of his youth and conjures a name and brand that add the bit of magic such things do.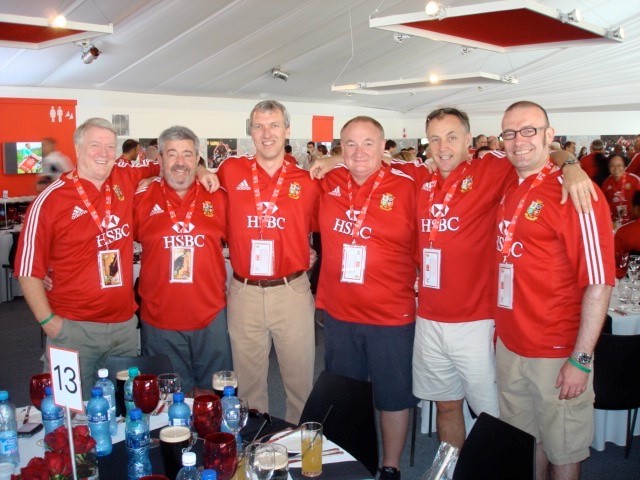 The Truants are christened.
And now it's Jan 21 2010 and thirty nine intrepid men and two fine women set off to cycle up the Nile from Aswan to Luxor, with a little help from a Nile steamer.  They are the only people on the boat, there is nothing to drink but beer and very few of them can cycle a lot or have managed to train, but they get through it and love it and themselves for doing so.  Fast friendships are formed over the 3 days and 100+ desert miles and innumerable temples and a remarkable £232,000 is raised to share between the two charities.
Such a thing cannot be allowed to be a one-off, it's too much fun and too important to the charities, so in 2011 23 Truants head off on a much harder ride, one that would set the standard for the future and demand training and serious pain and effort on the roads, tracks and paths.  Cuba is still recovering, but the charities receive a further £172,000.
They get another top up, £20,000 in April 2012, thanks to Mike Hole and the Royal Mid-Surrey and the first ever Truants Charity Golf Day. The Truants have a second string to their bow and welcome a 3rd charity, The Teenage Cancer Trust, to share the spoils.
And in October 2012 the heaviest group of Truants yet, 41 in number, complete the third, Moroccan, challenge, breaking records by raising an almost round £300,090 so that each of the charities gets £100,030 each. This clinking of glasses is making a big difference to a lot of difficult lives.
And on May 17 2013, Mr Hole and the brave folk of the RMS allow the Truants back, lairy trousers and ropey swings notwithstanding, and the yield on the day rises to £30,000, taking the grand total to the kids to a cool £754,250 in just over 3 years.  Cool but not ice cold. That left £245,750 to hit the magic million
And now we get to the Heavy Metal Truants. Thinking his Truants were certainly Heavy enough but just not Metal enough, during the Marrakesh Ride Rod approaches Alex Milas, another Metal God and at that time editor in chief of Metal Hammer and stalwart of Team Rock, to set up the Heavy Metal Truants offspring of our Truants. The idea was to get 40 or so Metal fans, musicians and business heads to ride the tough, mountainous 170 miles or so from Alexandra Palace , London, to Download Festival at Castle Donington near Leicester. 2013 was the ideal year to start as Maiden were headlining the event which is always in early June. This proved an immense success so was repeated in 2014 and has now become an annual event. And this first HMT escapade added a  further £94,000 to the kid's kitty.
£1 million is ice cold awesome and it's blown away in Cambodia in January 2014. The largely experienced Truants on that ride employed a scorched Earth approach to fundraising and, with many personal bests reached especially among the Prefects, a new all time record of £372,000 was set, making it £124,000 to each Charity, and the total amount donated since January 2010 rocketed to £1,126,340. We proudly sat in the glow of storming past our first million for the kids, but not for long!
The Third and Fourth Golf Days followed in 2014 and 2015, raising around £40,000 and £50,000 respectively. How can Mike Hole and his gang keep raising the ante here you may well ask? We will find out in 2016! Similarly the HMT's ride successfully again in 2014 and 2015, raising £72,000 and £70,000 respectively.
And in Nov 2015 it was off to Mexico where our 54 riders set a target of £500,000 and raised £517,000. Natch.
2016 was one of the every other years when the 'main' , or more properly 'old' Truants don't ride, but we still collectively sailed past the TWO MILLION mark with another successful Golf Day at the beautiful and generous Royal Mid-Surrey (£47,250) and another record breaking HMT ride making six figures for the first time, £104,000 to be exact.
And so into 2017 with the ambitious aim of giving over a three quarter of a million pounds to the kids in a year. Could we?  What do you think? The Golf Day set the scene with £46,500, the HMTs with over 50 riders smashed their record again with a terrific £111,500 and the older girls and boys gently invaded Kerala, India, in November. We beat our self-set £600,000 target by a £5000 scraping and thus smashed our £3/4m annual goal
It was down to the golfers and the HMT in 2018/2019 and with £43,000/£60,000 and £111,000/£101,000 they took up the strain. That took us past the THREE MILLION mark as we waited for the Truants to ride again in all their glory on their 2 year (approx.) cycle!
And so they did in January 2020, hearing the first hints of Covid on their ride in Vietnam from Hanoi to Halong Bay. They raised a massive £790,000. The golf had to  be cancelled as the world shut down but those smart HMTs made their ride virtual and international with over 400 Metal fans and bands in 35 counties joining forces to up the ante to £205,000 – making the 2020 calendar year total £995,000 raised for the kids ! This took the total raised to date by the Truants and their offspring well past the FOUR MILLION mark and now looking for FIVE – hopefully this year 2021 despite all the problems in the world.
The HMTs will ride in June (and we expect great things of that) , and the Truants themselves, ever older and rounder have forgone the longed for delights of Argentina to ride in Scotland. We had to be certain we did a ride this year as those kids really need the money and help right now, so the uncertainty of November in Latin America was replaced by the hopeful certainty of the UK in September. Argentina can wait til 2023 !  Can we get to FIVE MILLION this year? Well it won't be for lack of trying and with your help and a bit of golf too, of course the HMT and TT gangs can.
As you read this you'll see that what started out as a great idea has become a very serious donor to our 4 UK children's charities. Our success meant our admin and accounting needed to move beyond the excellent and accurate efforts of Ruth Fluin-Hardy and Nordoff Robbins – to whom the Truants owe a huge debt of gratitude – and so we decided to set up our own official charity:
THE TRUANTS FOUNDATION
It's charitable aims, approved by the charities commission are:
The relief of people who are in need as a result of ill health, poverty or financial hardship and the preservation of life and promotion of the good health and welfare of people in any part of the world, by the provision of financial assistance.
It will operate as a grant-maker making grants to registered charities in support of its objects for the public benefit and as such is not providing any treatments directly.
The CIO will make grants to UK registered charities : The Teenage Cancer Trust, Nordoff Robbins Music Therapy, Save The Children and Childline.
It is possible that the CIO will make grants to overseas registered charities / local schools or orphanages. If it does so, the Trustees will have regard to the Commission's guidance for grant-funding overseas organisations, to ensure that appropriate safeguards are in place for monitoring the end use of funds.
Serious stuff. Enabled by the wonderful Charles Bradbrook of SRLV who kindly offered to have that excellent accounting firm take care of all the necessary financial governance without charge – a very substantial charitable gift in its own right. Their efforts are in turn enabled by the Truant's Heartbeat, Helen Curl, our most tireless and excellent administrator who takes on all the Truants work on top of her near impossible job of being Rod's PA.  The rest of the work we split between the Truants gang, whether it's organising golf days and auctions; liaising with regulatory bodies and charities, or just trying to find Barry.
And so more millions will surely follow as long as there are glasses to clink and foolhardy, courageous, caring and often ridiculous men and women (and others too) to clink them and play Truant.   You can read about them all elsewhere on this site, along with the details of all the rides and riders.  Enjoy.